BRUXIE HOSTS GRAND OPENING CELEBRATION, DEBUTS FIRST SOUTHEAST LOCATION IN DOWNTOWN ATHENS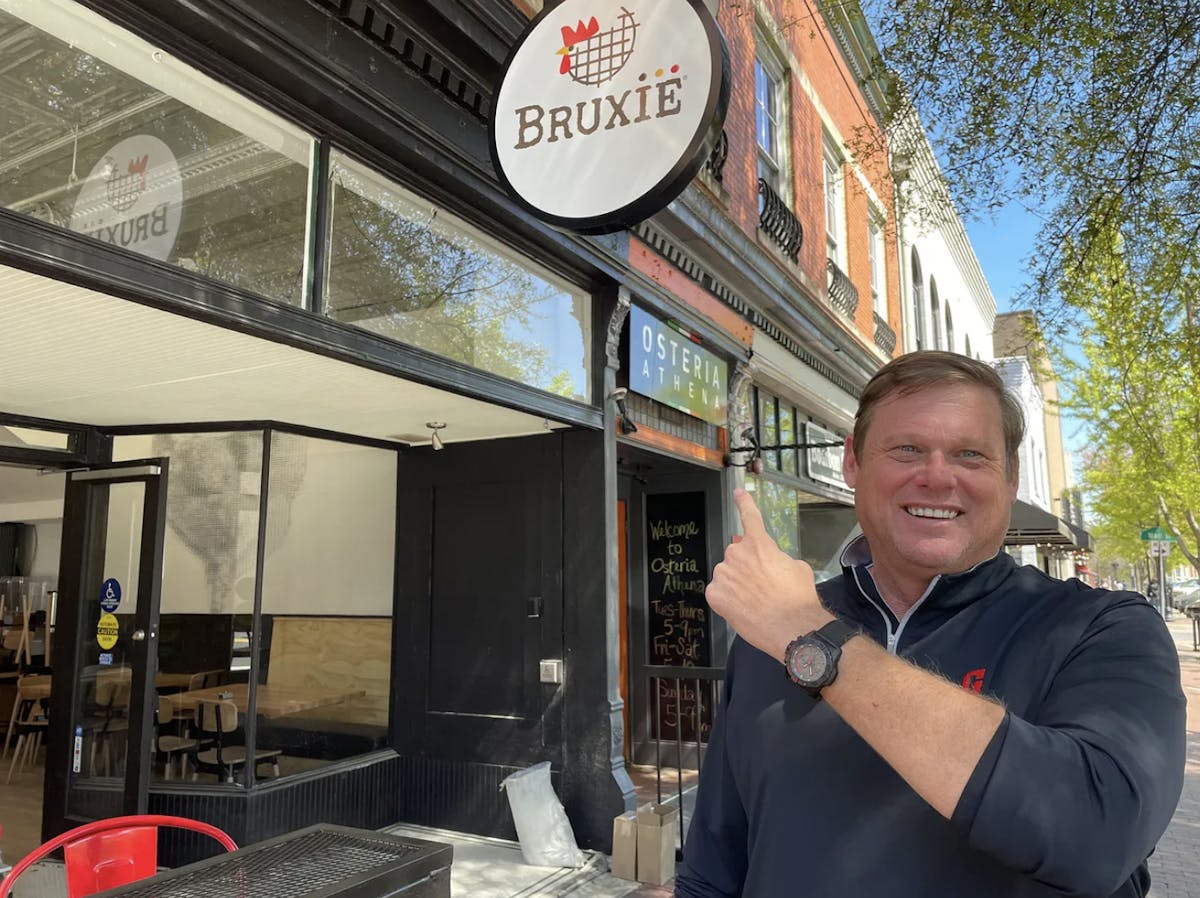 ATHENS, Ga.—March 23, 2023—Bruxie, an innovative restaurant concept known for its inventive menu offerings, intentional service and inviting atmosphere officially opens its doors in the Classic City on Wednesday, March 29. Bruxie's Broad Street location in downtown Athens is now home to its hand-crafted waffle sandwiches, famous chicken tenders and artisan custard shakes.
Hailing from California, the eatery is expected to take the East Coast by storm with its introduction to not only Georgia, but one of the state's most beloved restaurant scenes. Bruxie combines a welcoming staff with a chef-driven menu that utilizes fresh ingredients, time-intensive processes, proprietary recipes and creative culinary ideas to deliver an elevated fast casual dining experience.
Bruxie will celebrate its grand opening with a line-up of events throughout the weekend specifically designed for the vibrant Athens and University of Georgia (UGA) communities. The festivities will include plenty of waffle samples, giveaways, the chance to support one of UGA's student-led philanthropic organizations and more.
The full schedule of Bruxie's Grand Opening Weekend Celebration includes:
Friday, March 31

3-5 p.m. | Free Custard for Kids - School's out for the weekend! Visit Bruxie and treat your favorite students to a small custard for free.
Saturday, April 1
8:30 a.m. | Official Ribbon Cutting - Enjoy waffle samples and coffee with the Bruxie team as the Athens Area Chamber of Commerce hosts the official ribbon-cutting ceremony.

9 a.m. | Breakfast of Champions - In honor of the 2022 National Championship game score, the first 65 people in line will receive free Bruxie swag and more.

2-4 p.m. | Power 100.1 Live at Bruxie - Host Haley Bartoletta and Power 100.1 will be on-site to give out prizes, swag and free waffles.
Sunday, April 2

All Day | Percentage Day for UGA Miracle - When customers mention "UGA Miracle" at check out, Bruxie will donate 10% to support patients and families treated at Children's Healthcare of Atlanta.
"From the moment I first stepped foot in this city, I knew there was no better place to open our very first restaurant outside of California," said Scott Grinstead, Bruxie Chief Executive Officer. "The opportunity to share meals with this community means so much to me, especially because my daughter is a freshman at UGA this year. As a proud dad and business owner, I truly couldn't ask for more."
When planning its grand opening events, Bruxie prioritized building relationships with local organizations. The partnerships with Power 100.1 and UGA Miracle are only the beginning of Bruxie's plans to deeply invest in the city of Athens and the university.
"Fostering meaningful relationships and creating a positive, lasting impact on our friends and neighbors is at the heart of our restaurants," said Brett Gibson, Bruxie Athens owner. "There are so many initiatives for good in the Greater Athens community and that's a big reason Bruxie was drawn to this city. We're eager to invest in the students, families and individuals who live here while serving one-of-a-kind dishes that you can't find anywhere else."
Bruxie will be open daily from 9 a.m.-9 p.m. and is located at 311 East Broad Street. For more information, visit bruxie.com or follow @BruxieWaffles on Instagram and Facebook.
###
About Bruxie
Bruxie is a fast casual restaurant franchise known for its inviting vibes, personalized service, and innovative menu offerings, including delicious waffle sandwiches, famous chicken tenders and artisan custard shakes. Since its founding, Bruxie has gained widespread recognition and popularity as a chef-driven concept offering bold flavors, fresh ingredients, and unique chicken and waffle creations truly unlike anything else out there. Uniquely stationed at the top of the fast casual segment with high-quality food and a welcoming dine-in environment complemented by outstanding service, Bruxie invests in the best people, processes, and ingredients to ensure guests have a memorable experience with every visit. No longer California's best-kept secret, Bruxie's unmistakable attributes and defining characteristics are paving the way for a growing coast-to-coast footprint. For more information, visit www.bruxie.com.