BRUXIE BRINGS THE SWEET HEAT WITH NEW HONEY HOT CHICKEN SANDWICH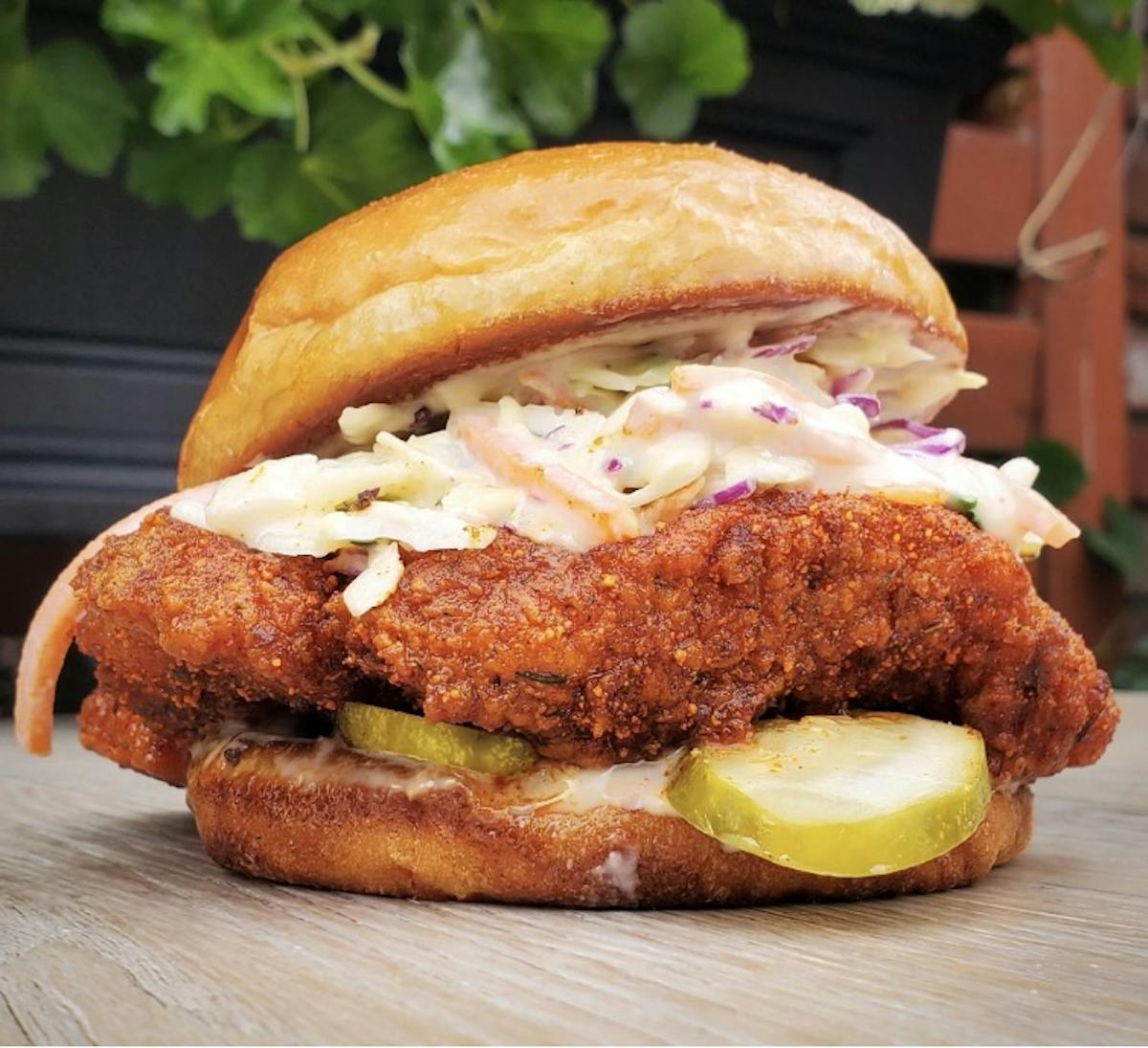 Orange, Calif. (March 7, 2023) – Bruxie, Southern California's beloved fast casual concept known for its inviting vibes and innovative menu offerings such as hand-crafted waffle sandwiches, famous chicken tenders and artisan custard shakes, has launched its newest limited time offering, the Honey Hot Chicken Sandwich. Featuring crispy fried chicken generously covered in Bruxie's proprietary Honey Hot spice blend, the sandwich is layered with homemade slaw, pickles, and creamy honey mustard sauce, all served on a grilled brioche bun. The Honey Hot Chicken Sandwich is available now at all Bruxie restaurants for a limited time.
Known for blazing unique flavor trails and walking the road less traveled when it comes to menu innovation and creatively inspired menus, Bruxie created the Honey Hot Chicken Sandwich to offer a bold, unique, elevated spin in the hot chicken space. Instead of just 'turning up the heat' on a classic fried chicken sandwich, Bruxie's Honey Hot Chicken Sandwich integrates complementary flavors that bring heat, tanginess, and a sweet finish, resulting in the perfect bite.
"As hot chicken grows in popularity, we've seen a focus on ramping up the heat ― we chose to focus on developing deep layers of flavor," said Kelly Mullarney, Bruxie's Executive Chef. "With the Honey Hot Chicken Sandwich, we purposefully put our energy into creating a well-balanced flavor profile that still packs a bit of a punch, while also amplifying the overall taste experience with sweet, tangy, crunchy and creamy elements. We're pleased to have created a sandwich that really delivers on so many levels, and we cannot wait for our guests to give it a try."
In addition to the Honey Hot Chicken Sandwich, Bruxie has introduced two shakes available only during the month of March. Perfect for tapping into the St. Patrick's Day spirit, Bruxie's Mint Shake and Mint Chocolate Shake are made with real Wisconsin custard, with the Mint Chocolate Shake featuring a heavy dose of house-made chocolate syrup.
"The Honey Hot Chicken Sandwich and Mint Shakes are certainly delicious and craveable menu items, but they are so much more than just our newest flavor combinations," said Scott Grinstead, CEO of Bruxie. "These tasty introductions underscore everything about the overall Bruxie brand essence and speak volumes about our brand DNA, which is all about delivering a dining experience that's incomparable, pushing the envelope when it comes to the uniqueness of our menu, and delighting guests by keeping them amazed with whatever we come up with next."
Since 2010, Bruxie has combined a friendly atmosphere with an innovative chef-driven menu that utilizes fresh ingredients, time-intensive processes, proprietary recipes and creative culinary ideas to deliver an elevated fast casual dining experience. Inviting guests to explore new options with every visit, Bruxie's wide-ranging menu features everything from righteous chicken tenders and unique waffle sandwiches to desserts and shakes made with real Wisconsin custard. Sauces are handmade in-house daily, produce is freshly chopped onsite, chicken is marinated for 24 hours before being fried to perfection, and the brand's Belgian-inspired waffles are designed to deliver a delightfully light and airy texture with a crispy finish.
Bruxie currently operates five restaurant locations in Southern California and is set to open its first East Coast location in Athens, GA later this month. The soon-to-be-bicoastal brand is tackling 2023 with a reinvigorated focus on expansion, both within California and beyond. Following Athens, Bruxie will welcome five additional locations throughout California, as well as additional restaurants in Georgia, focusing on the greater Atlanta market.
To find your nearest Bruxie's location, and learn more about the brand's unique, quality-driven menu, visit www.bruxie.com and follow the brand on Instagram, TikTok, Twitter, LinkedIn and Facebook.
About Bruxie
Bruxie is a fast casual restaurant concept known for its inviting vibes, personalized service, and innovative menu offerings, including delicious waffle sandwiches, famous chicken tenders and artisan custard shakes. Since its founding, Bruxie has gained widespread recognition and popularity as a chef-driven concept offering bold flavors, fresh ingredients, and unique chicken and waffle creations truly unlike anything else out there. Uniquely stationed at the top of the fast casual segment with high-quality food and a welcoming dine-in environment complemented by outstanding service, Bruxie invests in the best people, processes, and ingredients to ensure guests have a memorable experience with every visit. No longer California's best-kept secret, Bruxie's unmistakable attributes and defining characteristics are paving the way for a growing coast-to-coast footprint. For more information, visit www.bruxie.com.
Media Contact
Dani DeVries
Powerhouse+Co.
www.powerhouseandco.com
(949) 261-2216